Study: Warm Atlantic waters contribute to sea ice decline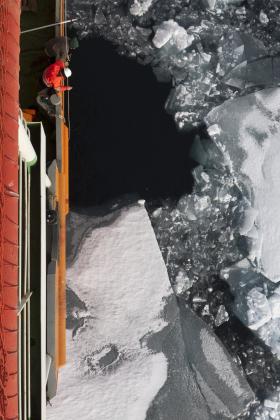 A University of Alaska Fairbanks study has determined that warmer water migrating from the Atlantic Ocean is a surprisingly powerful contributor to Arctic sea ice decline.
Research led by Igor Polyakov, a professor at UAF's International Arctic Research Center and College of Natural Science and Mathematics, has found that Atlantic currents contribute to sea ice loss in the Arctic Ocean at a rate comparable to warming air temperatures.
"This is a very important step toward a seasonal ice-free Arctic," said Polyakov.
The findings, outlined in the journal Science's April 6 edition, provide a greater understanding of the complex dynamics that contribute to sea ice melt. Co-authors of the paper include UAF's Andrey Pnyushkov, Robert Rember, Till Baumann and Vladimir Ivanov, as well as collaborators from Russia, Canada, Poland, Germany, Norway and the United States.
The Arctic Ocean has experienced dramatic reductions in sea ice in the past decade. The Eastern Eurasian Basin has had almost no ice by the end of each summer since 2011. Circulating Atlantic waters have been considered a small factor in that decline, due to a phenomenon known as stratification.
Read more at University of Alaska Fairbanks
Photo: Nansen and Amundsen Basins Observational System research cruise participants watch Arctic sea ice in summer 2015 from a deck on the research vessel Akademik Tryoshnikov. (Photo courtesy Igor Polyakov)