North America's freshwater lakes are getting saltier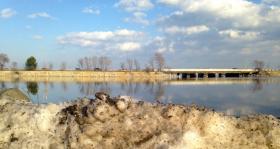 North America's freshwater lakes are getting saltier due to development and exposure to road salt. A study of 371 lakes published today in the Proceedings of the National Academy of Sciences reports that many Midwestern and Northeastern lakes are experiencing increasing chloride trends, with some 44% of lakes sampled in these regions undergoing long-term salinization.
The study is the first large-scale analysis of chloride trends in freshwater lakes. It was conducted by a team of fifteen researchers as part of the Global Lake Ecological Observatory Network (GLEON) Fellowship Program, an initiative that seeks to train the next generation of freshwater scientists and practitioners.
Lead author Hilary Dugan, a limnologist at the University of Wisconsin-Madison and former Cary Institute of Ecosystem Studies Postdoctoral Fellow, explains, "We compiled long-term data, and compared chloride concentrations in North American lakes and reservoirs to climate and land use patterns, with the goal of revealing whether, how, and why salinization is changing across broad geographic scales. The picture is sobering. For lakes, small amounts of shoreline development translate into big salinization risks."
Read more at Cary Institute of Ecosystem Studies
Photo: Lake Monona, in Madison, Wis. is experiencing rising salinity due to nearby roadways and road salt application. (Credits: Hilary Dugan)