Two-thirds of Great Barrier Reef hit by back-to-back mass coral bleaching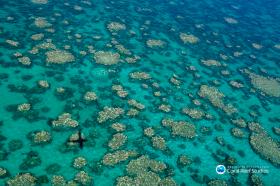 "The combined impact of this back-to-back bleaching stretches for 1,500 km (900 miles), leaving only the southern third unscathed," says Prof. Terry Hughes, Director of the ARC Centre of Excellence for Coral Reef Studies, who undertook the aerial surveys in both 2016 and 2017.
"The bleaching is caused by record-breaking temperatures driven by global warming. This year, 2017, we are seeing mass bleaching, even without the assistance of El Niño conditions."
The aerial surveys in 2017 covered more than 8,000 km (5,000 miles) and scored nearly 800 individual coral reefs closely matching the aerial surveys in 2016 that were carried out by the same two observers.
Read more at ARC Centre of Excellence for Coral Reef Studies
Photo credit: ARC Centre of Excellence for Coral Reef Studies