"Bad" air may impact "good" cholesterol increasing heart disease risk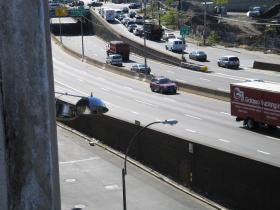 Traffic-related air pollution may increase cardiovascular disease risk by lowering levels of high-density lipoprotein (HDL), commonly known as "good" cholesterol, according to new research in the American Heart Association's journal Arteriosclerosis, Thrombosis, and Vascular Biology.
Scientists have long known that air pollution increases the risk of developing cardiovascular diseases including atherosclerosis and heart failure, but are uncertain how the two are connected. The connection may be explained by a reduction in the number of small, cholesterol-depleted HDL particles, leaving the average amount of cholesterol in HDL particles higher on a per-particle basis. Recent evidence suggests that the number and functionality of HDL particles may be a better gauge of HDL's heart-healthy effects than their cholesterol content, said lead author Griffith Bell, Ph.D., M.P.H., from the University of Washington School of Public Health in Seattle.
In a study of 6,654 middle-aged and older U.S. adults from diverse ethnic backgrounds, participants living in areas with high levels of traffic-related air pollution tended to have lower HDL levels.
Read more at American Heart Association
Image: Air quality equipment monitors traffic-related air pollution on a New York City highway.
Image Credits: The MESA Air Study