Arctic River Ice Deposits Rapidly Disappearing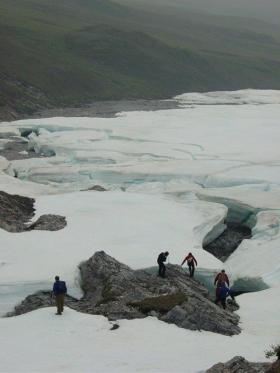 Climate change is causing thick ice deposits that form along Arctic rivers to melt nearly a month earlier than they did 15 years ago, a new study finds.
River icings form when Arctic groundwater reaches the surface and solidifies on top of frozen rivers. They grow throughout the winter until river valleys are choked with ice. Some river icings have grown to more than 10 square kilometers (4 square miles) in area – roughly three times the size of New York's Central Park – and can be more than 10 meters (33 feet) thick.
In the past, river icings have melted out around mid-July, on average. But a new study measuring the extent of river icings in the U.S. and Canadian Arctic shows most river icings disappeared 26 days earlier, on average, in 2015 than they did in 2000, melting around mid-June. In addition, the study found most icings that don't completely melt every summer were significantly smaller in 2015 than they were in 2000.
"This is the first clear evidence that this important component of Arctic river systems – which we didn't know was changing – is changing and it's changing rapidly," said Tamlin Pavelsky, a hydrologist at the University of North Carolina Chapel Hill and lead author of the new study published in Geophysical Research Letters, a journal of the American Geophysical Union.
Read more at American Geophysical Union
Image: A river icing on a small unnamed river that drains into Galbraith Lake, Alaska, which is in the Atigun River basin and was a major base camp location for the construction of the Trans-Alaska Pipeline connecting the Arctic Ocean to Valdez, Alaska. The people in this photo are researchers and students associated with Toolik Field Station. (Credit: Jay Zarnetske)