Molecules May Be Driving Fluctuations in Atmospheric Methane Concentrations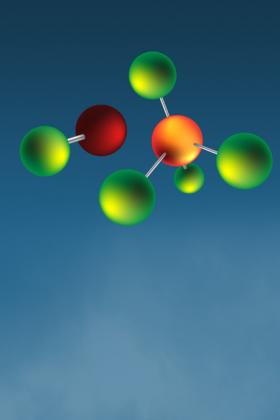 During the early 2000s, environmental scientists studying methane emissions noticed something unexpected: the global concentrations of atmospheric methane (CH4)—which had increased for decades, driven by methane emissions from fossil fuels and agriculture—inexplicably leveled off.
The methane levels remained stable for a few years, then started rising again in 2007. Previous studies have suggested a variety of potential culprits behind the renewed rise: increasing emissions from high-latitude wetlands, increasing fossil fuel emissions, or the growth of agriculture in Asia.
However, new modeling by researchers at Caltech and Harvard University suggests that methane emissions might not have increased dramatically in 2007 after all. Instead, the most likely explanation has less to do with methane emissions and more to do with changes in the availability of the hydroxyl (OH) radical, which breaks down methane in the atmosphere. As such, the amount of hydroxyl in the atmosphere governs the amount of methane. If global levels of hydroxyl decrease, global methane concentrations will increase—even if methane emissions remain constant, the researchers say.
Methane is the second most prevalent greenhouse gas, after carbon dioxide. However, the colorless, odorless gas can be difficult to track and derives from a wide range of sources, from decomposing biological material to leaks in natural gas pipelines.
Continue reading at California Institute of Technology (Caltech).
Photo via Caltech.