UW Researcher Helps Quantify Grasslands' Carbon Storage Value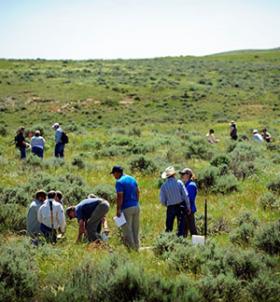 When grasslands feature a wide array of plant species, they provide a variety of benefits for humans and animals, including enhanced carbon storage capacity that can be quantified economically, according to a new scientific paper co-written by a University of Wyoming researcher.
And the ability to measure the economic value of biodiversity for enhancing carbon storage could help in making decisions about land management, the paper published in the journal Science Advances concludes.
Ed Barbier, the John S. Bugas Professor of Economics and Finance in the UW College of Business, was a co-author of "The economic value of grassland species for carbon storage," along with researchers from Northern Arizona University, the University of Illinois, the University of Minnesota, Australia's Western Sydney University, the University of Nebraska, Western Washington University and the University of Michigan.
"Biodiversity conservation may help increase carbon storage, but the value of this influence has been difficult to assess," the researchers wrote. "Our work … helps move beyond mere speculation about the economic importance of biodiversity and lends an economic argument to biodiversity preservation for climate protection."
Read more at University of Wyoming
Image: Participants in a workshop hosted by UW's Wyoming Reclamation and Restoration Center examine vegetation near Gillette. A UW College of Business researcher has helped quantify the economic value of biodiversity in grasslands for the purpose of carbon storage. (Credi: University of Wyoming)