New strategy produces stronger polymers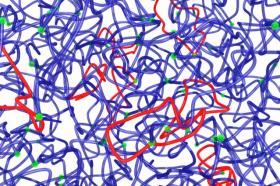 Plastic, rubber, and many other useful materials are made of polymers — long chains arranged in a cross-linked network. At the molecular level, these polymer networks contain structural flaws that weaken them.
Several years ago, MIT researchers were the first to measure certain types of these defects, called "loops," which are caused when a chain in the polymer network binds to itself instead of another chain. Now, the same researchers have found a simple way to reduce the number of loops in a polymer network and thus strengthen materials made from polymers.
To achieve this, the researchers simply add one of the components of the polymer network very slowly to a large quantity of the second component. Using this approach, they were able to cut the number of loops in half, in a variety of different polymer network structures. This could offer an easy way for manufacturers of industrially useful materials such as plastics or gels to strengthen their materials.
Continue reading at Massachusetts Institute of Technology
Image: Researchers have found a new approach for reducing the number of loops (red) in a polymer. The method could offer an easy way for manufacturers of industrially useful materials such as plastics or gels to strengthen their materials. (Courtesy of the researchers)