Toronto's subways expose passengers to more air pollution than Montreal, Vancouver systems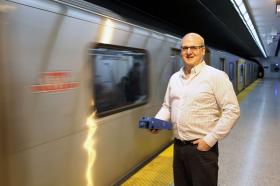 Airborne particulates on subway platforms and trains are up to 10 times higher than outside air, around three times higher than levels in Montreal's Metro
A new study co-authored by U of T Engineering Professor Greg Evans shows that subways increase our personal exposure to certain pollutants, even as they decrease overall emissions – and that Toronto has the highest levels in Canada.
The findings come from data collected on TTC platforms and in trains over three weeks in the summer of 2010 and the winter of 2011. In collaboration with researchers from Health Canada and McGill University, Evans and his chemical engineering students used portable detectors for particulate matter – tiny particles suspended in air – and found them to be much higher than in the ambient air outside.
The team evaluated air quality using a metric called PM2.5, which measures the mass of airborne particles smaller than 2.5 micrometres per cubic metre of air.
Continue reading at University of Toronto.
Photo via University of Toronto.