Drug created from malaria parasite shows promise as bladder cancer treatment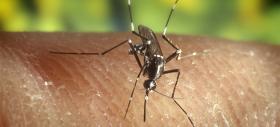 A drug created from a malaria protein stopped tumour growth of chemotherapy-resistant bladder cancer, offering hope for cancer patients not responding to standard treatments.
"This is the first study where we put the concept of using malaria proteins for cancer therapy into a direct clinical context," said Mads Daugaard, an assistant professor of urologic science at the University of British Columbia and a senior research scientist at the Vancouver Prostate Centre and the Vancouver Coastal Health Research Institute. "There is a massive clinical need to find new treatments for bladder cancer and we saw an opportunity to target this disease with our new malaria drug."
The study advances previous research that showed that a protein from the malaria parasite, called VAR2CSA, could target a wide range of cancer tumours.
In the new research, highly aggressive bladder cancer tumours that were completely resistant to chemotherapy were implanted in the bladder of mice. The researchers then tested whether the malaria protein could deliver drugs directly to tumours. They found that the tumours responded dramatically to the malaria drug combo.
Continue reading at University of British Columbia.
Photo via University of British Columbia.