Team discovers a new invasive clam in the U.S.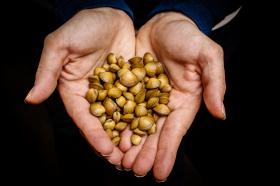 They found it in the Illinois River near the city of Marseilles, Illinois, about 80 miles west of Lake Michigan – a strange entry point for an invasive Asian clam. The scientists who found it have no idea how it got there. But the discovery – along with genetic tests that confirm its uniqueness – means that a new species or "form" of invasive clam has made its official debut in North America.
The researchers report the find in the journal BioInvasions Records.
This is only the latest invasive aquatic species to settle in North America, said Illinois Natural History Survey aquatic ecologist Jeremy Tiemann, who discovered the new clam with INHS mussel field biologist Sarah Douglass in late 2015. The INHS is a division of the Prairie Research Institute at the University of Illinois.
"In the Midwest, you have invasive bivalves, including zebra mussels, and several species of invasive fish: Asian carp, black carp and even goldfish," Tiemann said. There are exotic plants, like Eurasian milfoil. There is an invasive water flea from Africa, Asia and Australia. There also are several kinds of invasive snails, the researchers said. All of these create problems for the natives.
Continue reading at: University of Illinois at Urbana–Champaign
Photo: Researchers report the discovery of a new invasive clam in the U.S., a member of the genus Corbicula. (Photo by L. Brian Stauffer)