Climate Change: Measuring Its Impact on Extreme Weather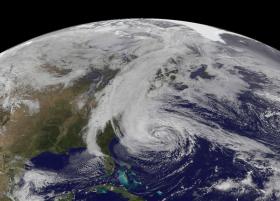 While climate scientists agree that human-caused climate change is influencing weather, they have often been hesitant to draw direct linkages between this phenomenon and specific extreme weather events. The reason? When studying a particular event such as a superstorm or severe heatwave, it can be challenging to tease apart human influence from the natural variability of the weather. But that's changing.
In a new study, published in the journal Proceedings of the National Academy of Sciences, Stanford professor of Earth system science Noah Diffenbaugh and a team of colleagues outline a four-step framework for testing whether global warming has contributed to particular weather events. The collaborative effort involves researchers from several universities including Northwestern and is the latest in the growing field of "event attribution analysis," which combines statistical analyses of climate observations with increasingly powerful computer models to study the influence of climate change on individual extreme weather events.
"Over the past decade, there's been an explosion of research, to the point that we are seeing results released within a few weeks of a major event," says Diffenbaugh.
By leveraging observations and a large climate model ensemble, the researchers quantify uncertainty in the influence of global warming on the severity and probability of the historically hottest month, hottest day, driest year, and wettest period for different areas of the globe.
Continue reading at: Northwestern University
Photo credit: Robert Simmon, NASA / NOAA