Not even the Himalayas are immune to traffic smog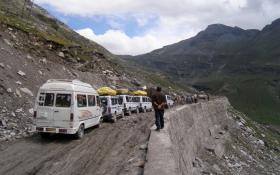 Smog from cars and trucks is an expected health hazard in big cities, but researchers from the University of Cincinnati found pollution from truck exhaust on one of the most remote mountain roads in the world.

Brooke Crowley, an assistant professor of geology and anthropology, and UC graduate student Rajarshi Dasgupta examined soil pollution along India's Manali-Leh Highway in the Himalaya Mountains.

This tortuous 300-mile route, much of it gravel or dirt, winds its way over one of the highest navigable mountain passes in the world at 17,480 feet. That's 4,000 feet higher in elevation than the top of Wyoming's Grand Teton.

The road's very remoteness has made it an international tourist attraction, drawing cyclists and adventurers keen on treading where so few have.
Continue reading at the University of Cincinnati.
Image credit: Brooke Crowley