NASA-NOAA's Suomi NPP Spots Formation of Tropical Cyclone Donna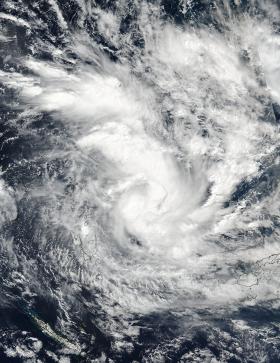 The tropical low pressure area previously known as System 99P organized and developed into tropical cyclone Donna in the South Pacific and now threatens Vanuatu. NASA-NOAA's Suomi NPP satellite provided visible and infrared data on the newly developed storm.
Donna developed into a tropical storm on May 2 at 2100 UTC (5 p.m. EDT) about 484 nautical miles northwest of Suva, Fiji.
On May 3 at 0224 UTC (May 2 at 10:24 p.m. EDT) the Visible Infrared Imaging Radiometer Suite (VIIRS) instrument aboard the NASA-NOAA Suomi NPP satellite captured a visible image of the newly developed tropical storm. The VIIRS image showed strong thunderstorms around the center of circulation and extending to the north in a large thick band.
At 0900 UTC (5 a.m. EDT), Donna's maximum sustained winds had increased to 55 knots (63 mph/102 kph). It was located near 12.7 degrees south latitude and 171.0 degrees east longitude, about 344 nautical miles north-northeast of Port Vila, Vanuatu. Donna has tracked westward at 5 knots (5.7 mph/9.2 kph).
Read more at: NASA / Goddard Space Flight Center
Image: On May 3 at 0224 UTC (May 2 at 10:24 p.m. EDT) the Visible Infrared Imaging Radiometer Suite (VIIRS) instrument aboard the NASA-NOAA Suomi NPP satellite captured a visible image of the newly developed tropical storm Donna. (Credits: NASA / NOAA)