Time to develop British Columbia wave energy advantage: new report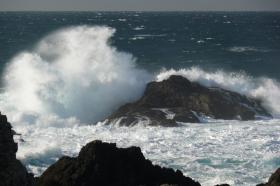 British Columbia now has enough detailed information about the height, frequency and direction of its coastal waves to start developing and testing wave energy converters in the ocean, according to a new report released at an energy conference at the University of Victoria today.
Produced by the UVic-led Pacific Institute for Climate Solutions and co-authored by researchers at UVic's West Coast Wave Initiative (WCWI), Wave Energy: A Primer for British Columbia summarises key research findings about the magnitude of BC's wave energy potential, explains how wave energy converters work, and examines the opportunities and challenges of the sector.
Speaking at the EnVision 2017 conference, the report's lead-author and WCWI programme manager, Bryson Robertson, says it's common knowledge that BC has one of the most energetic wave environments in the world. But, he says, designing a mechanical device to extract usable electricity from wave motion requires specific and detailed information about wave characteristics—and now they have it.
"Waves arriving on BC shores are the result of storms occurring across the vast Pacific Ocean, making waves a highly predictable resource for power system managers compared to other variable renewable energy sources," he notes. "WCWI has found on average a four-hour wave forecast is reliable within a 15 percent margin of error, while wind and solar in the Pacific Northwest are closer to 77 percent and 86 percent respectively."
Continue reading at University of Victoria.
Photo via University of Victoria.