Robots may bring reef relief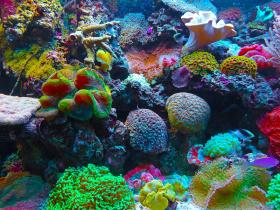 A study authored by University of Delaware professor Art Trembanis and colleagues reveals new details about deep sea reefs — known as mesophotic reefs — near the island of Bonaire in the Dutch Caribbean.
While coral reefs worldwide are in decline, the waters surrounding Bonaire comprise a marine park known as a scuba "diver's paradise" because it contains some of the most well-preserved coral reefs in the Caribbean basin.
Trembanis and colleagues used autonomous underwater vehicles (AUVs) to map these deep sea reefs, situated 100 to over 500 feet (30 to over 150 meters) below the ocean surface, which are considered a lifeline for shallow reef recovery due to stressors like warming (bleaching), ocean acidification, over fishing and other deteriorations.
These deep reefs can be a substantive part of the coral reef ecosystem of any island, yet they remain largely unexplored because they generally are located beyond the capabilities of divers and are too expansive to be studied using submersibles.
The researchers hope the mapping effort, and the associated data, will help local conservation efforts.
"It's hard to manage what you don't see," said Trembanis, an associate professor in the College of Earth, Ocean, and Environment's School of Marine Science and Policy.
Continue reading at the University of Delaware
Image via Pixabay