Warmer temperatures cause decline in key runoff measure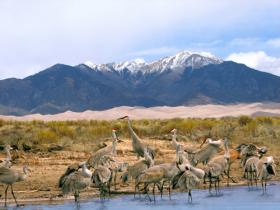 Since the mid-1980s, the percentage of precipitation that becomes streamflow in the Upper Rio Grande watershed has fallen more steeply than at any point in at least 445 years, according to a new study led by the National Center for Atmospheric Research (NCAR).
While this decline was driven in part by the transition from an unusually wet period to an unusually dry period, rising temperatures deepened the trend, the researchers said.
The study paints a detailed picture of how temperature has affected the runoff ratio — the amount of snow and rain that actually makes it into the river — over time, and the findings could help improve water supply forecasts for the Rio Grande, which is a source of water for an estimated 5 million people.
The study results also suggest that runoff ratios in the Upper Rio Grande and other neighboring snow-fed watersheds, such as the Colorado River Basin, could decline further as the climate continues to warm.
Read more at National Center for Atmospheric Research - University Corporation for Atmospheric Research
Image: Sandhill cranes in the San Luis Valley of Colorado. The mountains ringing the valley form the headwaters of the Rio Grande River, which flows south into New Mexico and along the border between Texas and Mexico. (Photo courtesy of the National Park Service.)