Shelf sediments reveal climate shifts through the eons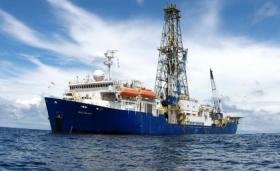 Climate change around Antarctica can severely affect Australia's rainfall and even influence the distribution of wet and dry zones across southeast Asia, an international study has revealed.
Chelsea Korpanty of The University of Queensland's School of Biological Sciences worked on the study, which was led by Dr Jeroen Groeneveld from the Center of Marine and Environment Sciences at the University of Bremen, Germany.
Ms Korpanty said global climate underwent significant change about 14 million years ago when the Antarctic ice sheet expanded.
"The new study presents shallow-marine sediment records from the Australian continental shelf, providing the first empirical evidence linking high-altitude cooling around Antarctica to climate change in the subtropics during the Miocene era," she said.
Read more at University of Queensland
Image: The research vessel JOIDES Resolution, photo by Arito Sakaguchi, IODP/TAMU. Wikipedia Creative Commons.