Not just your typical garden-variety UAlberta volunteer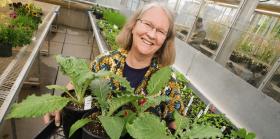 When asked why she loves to garden, Shirley Ross quotes the late Lois Hole, Alberta's most beloved green thumb.
"Caring is the soul of gardening . . . We take risks and place our trust in factors beyond our control. Yet in the end, we are almost always rewarded with a beautiful harvest."
As a longtime volunteer at the University of Alberta's Green & Gold Community Garden, Ross feels those gentle, wise words sum up her experience working alongside others to make the two-acre patch of land on South Campus the bountiful, giving place it has become.
"It rings true for me regarding the wonderful, caring group of people who volunteer at the garden. And although we have contended at times with drought, flooding and snow, we have usually been rewarded with a bounty of vegetables."
Continue reading at University of Alberta.
Photo via University of Alberta.