Migratory birds bumped off schedule as climate change shifts spring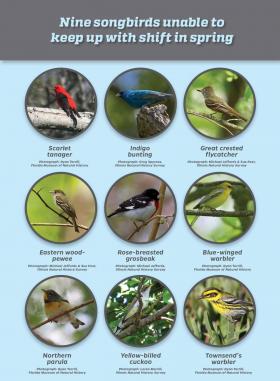 New research shows climate change is altering the delicate seasonal clock that North American migratory songbirds rely on to successfully mate and raise healthy offspring, setting in motion a domino effect that could threaten the survival of many familiar backyard bird species.
A growing shift in the onset of spring has left nine of 48 species of songbirds studied unable to reach their northern breeding grounds at the calendar marks critical for producing the next generation of fledglings, according to a paper published today in Scientific Reports.
That's because in many regions, warming temperatures are triggering plants to begin their growth earlier or later than normal, skewing biological cycles that have long been in sync.
The result, researchers say, could be a future much like the one Rachel Carson hinted at more than 50 years ago.
Read more at Florida Museum of Natural History
Image: These nine species of migratory birds are not adjusting to spring's shifting start date, possibly threatening their survival. (Credit: Elecia Crumpton, University of Florida)