NASA Aims to Create First-Ever Space-Based Sodium Lidar to Study Poorly Understood Mesosphere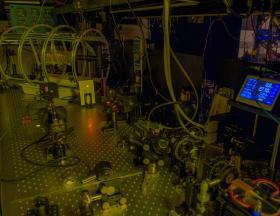 A team of NASA scientists and engineers now believes it can leverage recent advances in a greenhouse-detecting instrument to build the world's first space-based sodium lidar to study Earth's poorly understood mesosphere.
Scientist Diego Janches and laser experts Mike Krainak and Tony Yu, all of whom work at NASA's Goddard Space Flight Center in Greenbelt, Maryland, are leading a research-and-development effort to further advance the sodium lidar, which the group plans to deploy on the International Space Station if it succeeds in proving its flightworthiness.
NASA's Center Innovation Fund and the Heliophysics Technology and Instrument Development for Science programs are now funding the instrument's maturation. However, the concept traces its heritage in part to NASA's past investments in promising lidar instruments, called Sounders, originally created to measure carbon dioxide and methane in Earth's atmosphere.
From its berth on the orbiting outpost, the instrument would illuminate the complex relationship between the chemistry and dynamics of the mesosphere that lies 40-100 miles above Earth's surface — the region where Earth's atmosphere meets the vacuum of space.
Continue reading at NASA
Image: With NASA technology-development funding, a Goddard team of scientists and engineers will advance a sodium lidar instrument for use in space. This image shows the laboratory breadboard.
Credits: NASA/W. Hrybyk