NOAA begins transition of powerful new tool to improve hurricane forecasts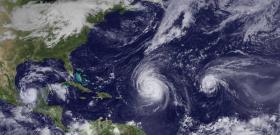 NOAA will begin using its newest weather prediction tool -- the dynamic core, Finite-Volume on a Cubed-Sphere (FV3), to provide high quality guidance to NOAA's National Hurricane Center through the 2017 hurricane season.
Developed by Shian-Jiann Lin and his team at NOAA's Geophysical Fluid Dynamics Laboratory (GFDL), the FV3 will be used to power experimental hurricane forecast models that run parallel to the operational forecast models this season. This is the start of a major transition of the FV3 to NOAA operational weather forecasting, expected to be completed in 2019.
"For more than a decade the FV3 has been advancing the frontiers of weather and climate prediction on timescales of seasons to decades," said V. "Ram" Ramaswamy, director of NOAA's GFDL. "The new paradigm shift is to combine the strengths of the FV3 with weather forecast models to improve operational weather and hurricane forecasting for our nation."
The FV3 brings more sophisticated physics, a new level of accuracy, and greater numeric efficiency to how high-speed computer-driven weather models represent air motions and other atmospheric processes. It makes possible simulations of clouds and storms at resolutions not yet used in an operational global forecast model. The FV3 was chosen by NOAA last year to become the heart of NOAA's next generation U.S. Global Forecast System (GFS), currently being developed.
Continue reading at NOAA.
Photo via NOAA.