Argonne scientists make vanadium into a useful catalyst for hydrogenation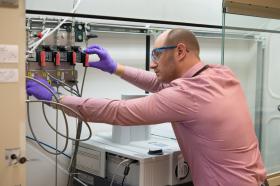 Just as Cinderella turned from a poor teenager into a magnificent princess with the aid of a little magic, scientists at the U.S. Department of Energy's Argonne National Laboratory have transformed a common metal into a useful catalyst for a wide class of reactions, a role formerly reserved for expensive precious metals.
In a new study, Argonne chemist Max Delferro boosted and analyzed the unprecedented catalytic activity of an element called vanadium for hydrogenation – a reaction that is used for making everything from vegetable oils to petrochemical products to vitamins.
"Typically, catalyzing these reactions has typically required precious metals, like platinum, palladium or rhodium," Delferro said.
Continue reading at Argonne National Laboratory
Image: Argonne chemist Max Delferro has developed an unusually active form of vanadium for hydrogenation reactions. Vanadium an inexpensive common metal that could replace some of the precious metals currently found in catalysts used in these reactions, frequently used in processing of petrochemicals. (Image by Argonne National Laboratory)