Decomposing Leaves Are A Surprising Source Of Greenhouse Gases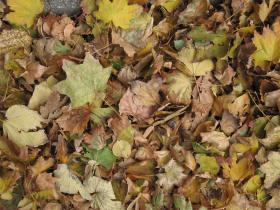 Michigan State University scientists have pinpointed a new source of nitrous oxide, a greenhouse gas that's more potent than carbon dioxide. The culprit?
Tiny bits of decomposing leaves in soil.
This new discovery is featured in the current issue of Nature Geoscience, could help refine nitrous oxide emission predictions as well as guide future agriculture and soil management practices.
"Most nitrous oxide is produced within teaspoon-sized volumes of soil, and these so-called hot spots can emit a lot of nitrous oxide quickly," said Sasha Kravchenko, MSU plant, soil and microbial scientist and lead author of the study. "But the reason for occurrence of these hot spots has mystified soil microbiologists since it was discovered several decades ago."
Part of the vexation was due, in part, to scientists looking at larger spatial scales. It's difficult to study and label an entire field as a source of greenhouse gas emissions when the source is grams of soil harboring decomposing leaves.
Read more at Michigan State University
Image Credits: Florian Prischl via Wikimedia Commons