New method enables real-time monitoring of materials during irradiation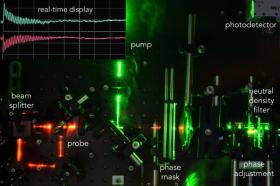 A new advance on a method developed by MIT researchers could enable continuous, high-precision monitoring of materials exposed to a high-radiation environment. The method may allow these materials to remain in place much longer, eliminating the need for preventive replacement. It could also speed up the search for new, improved materials for these harsh environments.
The new findings appear in the journal Applied Physics Letters, in a paper by graduate student Cody Dennett and assistant professor of nuclear science and engineering Michael Short. This study builds on the team's earlier work that described the benchmarking of the method, called transient grating spectroscopy (TGS), for nuclear materials. The new research shows that the technique can indeed perform with the high degree of sensitivity and time-resolution that the earlier calculations and tests had suggested should be possible for detecting tiny imperfections.
"Our whole goal was to monitor how materials evolve when exposed to radiation," Short explains, "but do it in a way that's online," without requiring samples to be extracted from that environment and tested in outside devices. Such a process can be time-consuming and expensive, and doesn't provide information about how damage occurs over time.
Continue reading at Massachusetts Institute of Technology (MIT)
Image Credits: MIT Researchers