Motor-boat noise makes fish bad parents, leading to the death of their babies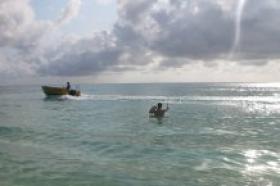 Noise from motorboats is making fish become bad parents, and reducing the chance of their young surviving, research led by marine experts at the University of Exeter has shown.
The sound of motorboat engines disturbed coral reef fish so acutely it changed the behaviour of parents, and stopped male fish properly guarding their young, feeding and interacting with their offspring.
The research, which involved playing recordings of natural reef noise or intermittent motorboat noise around 38 fish nests over 12 days, found that the death-rates of baby fish exposed to boat engine noise increased significantly, with six of the 19 boat-noise nests suffering complete mortality.
The University of Exeter led team of marine biologists say that noise from boats is a 'global pollutant', distracting fish and making them unable to properly protect their young from predators. They believe motorboat noise should be factored in when trying to protect fish stocks and manage fisheries.
Continue reading at University of Exeter.
Photo via University of Exeter.