Musk Says Tesla Plans to Build up to 20 'Gigafactories' Worldwide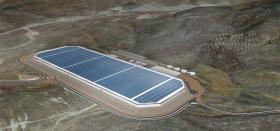 At Tesla's annual shareholder meeting, founder and CEO Elon Musk said the company eventually plans to build 10 to 20 "gigafactories" capable of producing both cars and lithium-ion batteries.
At Tesla's annual shareholderTesla — now in the business of making electric vehicles, batteries, and solar panels — is currently building its first gigafactoryoutside of Sparks, Nevada. That plant, which will be more than three times the size of New York City's Central Park, will begin battery production this year. In 2018, the factory is expected to produce more lithium-ion batteries annually than were produced globally in 2013. The Nevada gigafactory is currently devoted to producing only batteries.
Musk told shareholders that Tesla has identified three more locations for gigafactories, and eventually plans to build 10 to 20 worldwide. Musk had said earlier that 100 gigafactories could produce enough lithium-ion batteries and vehicles to power a transition globally from gasoline-powered cars to vehicles powered by wind, solar, and other forms of renewable energy.
Continue reading at Yale Environment 360
Image via TESLA.com