Building to better weather the storm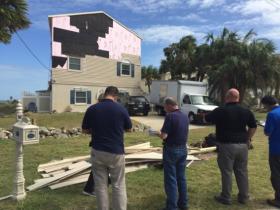 The Atlantic hurricane season has officially begun and the National Oceanic and Atmospheric Administration (NOAA) is predicting "above normal" storm activity this year. That could mean significant damage to coastal communities — some of which are still recovering from last year's hurricane season.
As officials in hurricane-prone communities are calling on residents to be prepared for upcoming storms, researchers with the MIT Concrete Sustainability Hub (CSHub) are encouraging officials to make preparation a priority from the very earliest stages of building design, starting with data-driven changes to building codes.
To help, CSHub has developed a new dashboard that lets users calculate, on a county-by-county basis, the right amount to spend up front on hazard mitigation for residential buildings in hurricane-prone communities along on the U.S. East and Gulf coasts. The tool lets users determine how much can be invested in mitigation during construction while still breaking even on future repair costs, and is based on case studies that employed the CSHub's Break-Even Mitigation Percentage (BEMP).
"Designing homes and buildings in hazard-prone areas with the expectation that damage will occur can make communities safer and reduce the costly repairs that follow extreme weather events," says Jeremy Gregory, executive director of the CSHub. "In areas prone to natural disasters, more spending on mitigation is absolutely justified. The BEMP helps to identify how much extra spending is recommended, and the dashboard makes it faster and easier to see that calculation."
Continue reading at MIT.
Photo via MIT.