An energy-efficient cleaning robot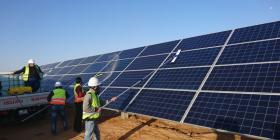 State-of-the-art solar cells are efficient – but are even more so when they are kept clean. A cleaning robot developed by Norwegian researchers enables solar panels to deliver at full capacity.
At a solar energy farm just outside Budapest in Hungary, a cleaning robot is industriously getting on with today's task. Hundreds of square metres of solar panels are waiting to be cleaned – as quickly and effectively as possible. And without the use of chemicals or any unwanted discharges to the natural environment. The robot is the result of a joint project between Norwegian researchers and the Hungarian company ProDSP Technology.
"It's a well known fact that solar panels work more efficiently when they're clean", says SINTEF researcher and Project Manager Martin Bellmann who, in his day-to-day work, develops what is known as sustainable energy technology. "But what's new here is that we've developed a robot to do the job. This means that the solar cells are cleaned both quickly and efficiently with as little as possible wear and tear or environmental impact", he says.
Continue reading at SINTEF
Photo: Manual cleaning being carried out at Scatec Solar's solar energy farm in Jordan. (Credit: Mohammad Ba'ra)