Widespread snowmelt in West Antarctica during unusually warm summer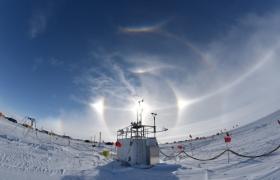 An area of West Antarctica more than twice the size of California partially melted in 2016 when warm winds forced by an especially strong El Niño blew over the continent, an international group of researchers has determined.
In the June 15 issue of the journal Nature Communications, they report that the warm spell persisted for more than two weeks in January 2016. Satellite data revealed a mix of melted snow and ice over most of the Ross Ice Shelf—a thick platform of floating ice that channels about a third of the ice flowing from the West Antarctic Ice Sheet into the ocean.
While researchers have been gathering evidence for years that warm ocean water is melting West Antarctic ice shelves from beneath, this is one of the first times they've been able to document how warm air could also cause widespread melting from above.
As it happens, researchers had installed the necessary instruments to investigate these processes in West Antarctica only a few weeks earlier, as part of a study to better understand how clouds affect the amount of energy that reaches the snow surface and influence its temperature.
Continue reading at The Ohio State University
Photo: AWARE instruments at the WAIS Divide field camp in central West Antarctica in December 2015 under a spectacular optical display ("sun dog") due to atmospheric ice crystals. Photo credit: Colin Jenkinson, Australian Bureau of Meteorology.