Unusual soybean coloration sheds a light on gene silencing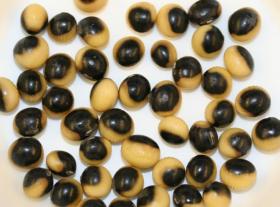 Today's soybeans are typically golden yellow, with a tiny blackish mark where they attach to the pod. In a field of millions of beans, nearly all of them will have this look. Occasionally, however, a bean will turn up half-black, with a saddle pattern similar to a black-eyed pea.
"The yellow color is derived from a natural process known as gene silencing, in which genes interact to turn off certain traits," explains Lila Vodkin, professor emerita in the Department of Crop Sciences at the University of Illinois. "Scientists make use of this process frequently to design everything from improved crops to medicines, but examples of naturally occurring gene silencing – also known as RNA interference, or RNAi – are limited. A better understanding of this process can explain how you can manipulate genes in anything from soybeans to humans."
The RNAi pathway was discovered about 20 years ago as a naturally occurring process in a tiny roundworm. The discovery and follow-up work showing its biomedical potential won scientists the Nobel Prize in 2006. In plants, RNAi was discovered in petunias. When breeders tried to transform one gene to cause brighter pinks and purples, they wound up with white flowers instead. The gene for flower color had been silenced.
"Before they were domesticated, soybeans were black or brown due to the different anthocyanin pigments in the seed coat," says Sarah Jones, a research specialist working with Vodkin on the study. "Breeders got rid of the dark pigments because they can discolor the oil or soybean meal during extraction processes."
Read more at University of Illinois College of Agricultural, Consumer and Environmental Sciences (ACES)
Image: Researchers at the University of Illinois have discovered the molecular mechanisms behind unusual saddle patterns on soybeans. (Credit: Lila Vodkin)