Earth has 2nd warmest year to date and 3rd warmest May on record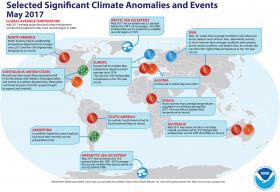 Consistent with 2016 global trends that continued into the first five months of this year, much of the world's land and ocean surfaces registered persistently warm temperatures for both May and the year to date*.
Climate by the numbers
May
The average global temperature set in May 2017 was 1.49 degrees F above the 20th-century average of 58.6 degrees, according to scientists from NOAA's National Centers for Environmental Information. This average temperature was the third highest for May in the 1880-2017 record, behind May 2015 (second) and a record-breaking May 2016.
Season | March through May 2017
The average temperature from March through May was 1.66 degrees F above the 20th-century average of 56.7 degrees. This was the second warmest for this period, trailing the 2016 record.
Continue reading at NOAA.
Image via NOAA.