Snake Fungal Disease Identified in Wild British Snakes for First Time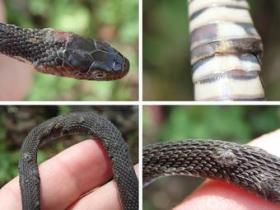 Europe's wild snakes could face a growing threat from a fungal skin disease that has contributed to wild snake deaths in North America, according to an international collaborative study, led by conservation charity Zoological Society of London alongside partners including the U.S. Geological Survey. The new study is published in the journal Scientific Reports.
Caused by the fungus Ophidiomyces ophiodiicola, snake fungal disease, or SFD, can lead to symptoms including skin lesions, scabs and crusty scales, which can contribute to the death of the infected animal in some cases. SFD was first recognized in wild snakes in eastern North America around a decade ago. Prior to this study, the only wild populations found to be affected had been those in the central and eastern United States.
Now, an analysis of samples collected from wild snakes in the United Kingdom and the Czech Republic between 2010-2016 confirmed the presence of the pathogen and SFD in Europe for the first time. While the disease poses no known risk to humans or livestock, scientists are calling for further research to understand the full significance of SFD to Europe's snake populations.
Continue reading at USGS.
Images via USGS.