Solar heating could cover more than 80% of domestic heating requirements in Nordic countries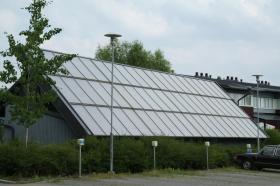 According to researchers at Aalto University, by using suitable systems, more than 80% of heating energy for Finnish households could be produced using solar energy. As the price of heating energy obtained from solar heating systems needed to be competitive with the currently used heating alternatives, calculations made by researchers showed that renewable energy could be used to cover 53–81% of annual domestic heating energy consumption depending on the technical implementation method.
'In principle, this result is also valid for Sweden, Norway and other locations at the same latitudes. Of course, local conditions have some effect on this,' says Hassam ur Rehman, a doctoral candidate at Aalto University.
The researchers calculated the amount of solar heat obtained for heating the households when excess energy was stored for use during cold periods. The researchers calculated the amount of heat obtained for practical use when energy for heating households was accumulated using solar heating and the accumulated heat was stored for use during cold periods. In their calculations, the researchers studied the use of both above-ground water storage tanks for short-term heat storage and a borehole storage suited for seasonal storage. The results depended on the method of how the heat pumps and the water storage tanks and the borehole storage for storing heat were used together.
The heating of buildings is one of the largest sources of carbon dioxide emissions in Europe. In the EU, this heating takes up 40% of all energy consumption.
Read more at Aalto University
Image: In the Eko-Viikki housing area in Helsinki, Finland, nine properties have been equipped with solar heating systems for producing heat for water heating systems and, in a few of the houses, for underfloor heating. From the solar panels, the accumulated heat is conducted to an insulated water tank functioning as a thermal storage. (Credit: Helen Oy)