Watching cities grow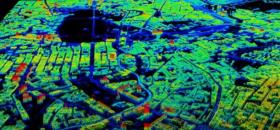 Three million measurement points in one square kilometer: Prof. Xiaoxiang Zhu and her team have set a world record in information retrieval from satellite data. Thanks to new algorithms, the researchers from the Technical University of Munich (TUM) succeeded in making four-dimensional point clouds of Berlin, Las Vegas, Paris and Washington, D.C. from images stacks of the TerraSAR-X radar satellite. Next the scientists plan to create four-dimensional models of all cities in the world.
The world's major cities are growing. According to United Nations estimates, today approximately half of the world's population is already living in cities. By 2050 the figure is expected to grow to two thirds of the world´s population. "This growth places high demands on building and infrastructure safety, since damage events can endanger thousands of human lives at once," says Xiaoxiang Zhu, Professor for Signal Processing in Earth Observation at TUM.
Together with her team she has developed a method for early detection of potential dangers: for example, subterranean subsidence can result in the collapse of buildings, bridges, tunnels or dams. The new method makes it possible to detect and visualize changes as small as one millimeter per year.
Continue reading at Technical University of Munich (TUM)
Image: Using the new satellite tomography, researchers can map the city of Berlin in 3-D and deformation and subsidence down to the millimeter. (Credit: DLR & TUM)