Crops' sweet bribes for ants help them bear fruit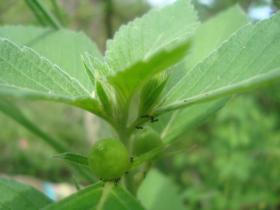 Flowering crops such as beans and cotton offer their sweetest nectar to recruit colonising ants.
This strategy balances their need for defence and to reproduce, research suggests.
So-called ant-plants carefully manage the amount and sweetness of nectar produced on their flowers and leaves, a study shows.
This enables them to attract ants – which aggressively deter herbivores – while also luring insects that will spread pollen.
Agricultural use
The findings could inform the commercial farming of produce from ant-plants, which also include pumpkins, courgettes, passionfruit and acacia honey.
Read more at University of Edinburgh
Image: Ants are shown on bud and fruits of a passionflower following a study which found that flowering crops such as beans, cotton and passionfruit offer their sweetest nectar to recruit colonizing ants -- their strategy balances their need for defense and to reproduce. (Credit: Nora Villamil-Buenrostro)