Research Accelerates Quest for Quicker, Longer-lasting Electronics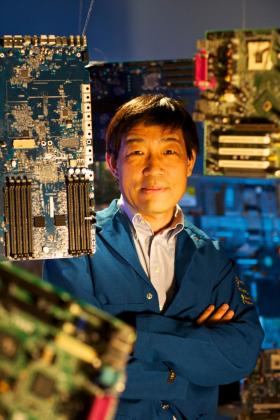 In the world of electronics, where the quest is always for smaller and faster units with infinite battery life, topological insulators (TI) have tantalizing potential.
In a paper published today in "Science Advances," Jing Shi, a professor of physics and astronomy at the University of California, Riverside, and colleagues at Massachusetts Institute of Technology (MIT), and Arizona State University report they have created a TI film just 25 atoms thick that adheres to an insulating magnetic film, creating a "heterostructure." This heterostructure makes TI surfaces magnetic at room temperatures and higher, to above 400 Kelvin or more than 720 degrees Fahrenheit.
The surfaces of TI are only a few atoms thick and need little power to conduct electricity. If TI surfaces are made magnetic, current only flows along the edges of the devices, requiring even less energy. Thanks to this so-called quantum anomalous Hall effect, or QAHE, a TI device could be tiny and its batteries long lasting, Shi said.
Continue reading at University of California – Riverside
Image: Jing Shi surrounded by computer electronics (Credits: University of California – Riverside)