Lending plants a hand to survive drought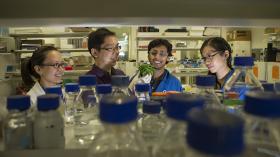 A research team led by The Australian National University (ANU) has found a new way to help plants better survive drought by enhancing their natural ability to preserve water.
The findings have helped some plants survive 50 per cent longer in drought conditions, and could eventually benefit major crops such as barley, rice and wheat, which are crucial to world food supplies.
The research team, led by Dr Wannarat Pornsiriwong, Dr Gonzalo Estavillo, Dr Kai Chan and Dr Barry Pogson from the ANU Research School of Biology, mapped a new molecular signalling pathway that controls the ability of plants to close the pores on their leaves to conserve water during drought stress.
"This basic scientific research has the potential to be able to improve farming productivity not just in Australia, but potentially in other countries that suffer from drought stress," Dr Pogson said.
"If we can even alleviate drought stress a little it would have a significant impact on our farmers and the economy."
Continue reading at Australian National University
Image Credits: Stuart Hay via Australian National University