Hot Cities Spell Bad News for Bees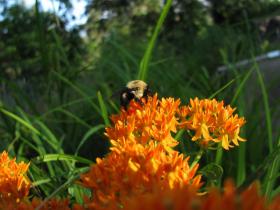 A new study from North Carolina State University finds that common wild bee species decline as urban temperatures increase.
"We looked at 15 of the most common bee species in southeastern cities and – through fieldwork and labwork – found that increasing temperatures in urban heat islands will have a negative effect on almost all of them," says Steve Frank, an associate professor of entomology at NC State and co-author of a paper describing the work.
"What's exciting is that we were able to use a relatively easy lab test on individual bees to predict how whole populations will fare at higher temperatures in urban areas," says Elsa Youngsteadt, a research associate at NC State and co-lead author of the paper. "This is a tool we can use for additional bee species in the future, giving us insights into how urban warming affects ecosystems."
In the laboratory portion of the study, researchers established the critical thermal maximum (CTmax) for all 15 bee species. This involved placing the bees in tubes and gradually increasing the temperature until each bee became incapacitated. The most heat-tolerant species included the carpenter bees Xylocopa virginica and Ceratina strenua, with CTmaxvalues of 50 to 51°C (122 to 124°F). Some of the least heat-tolerant species included a green sweat bee (Agapostemon virescens) and a bumble bee (Bombus bimaculatus), each with a CTmax below 45°C (113°F). It's worth noting that the CTmax is the temperature at which an insect is incapacitated, but the insect is adversely affected at lower temperatures and may leave a habitat or reproduce less.
Continue reading at North Carolina State University
Image Credit: Elsa Youngsteadt