How grassland management without the loss of species works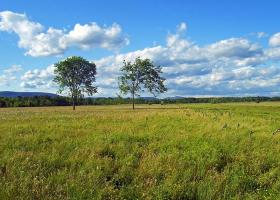 The intensive management of grasslands is bad for biodiversity. However, a study by the Terrestrial Ecology Research Group at the Technical University of Munich (TUM) has brought a ray of hope: If different forms of management are optimally distributed within a region, this can lead to higher yields without the loss of insect species. In ideal cases, this will allow even more species to find habitats that are optimal for them. What is crucial here is that management is planned at the landscape level.
For this study, data for more than a thousand species of arthropods were evaluated. This data was collected from over a hundred grassland sites (meadows and pastures). The dataset comes from the years 2008 to 2012 and were sampled in the study regions of the Biodiversity Exploratories: Swabian Jura, Hainich-Dün, and Schorfheide-Chorin. Along gradients typical for grassland management in the region — from intensive agriculture to medium-level and extensive management — it was observed how the populations of frequently encountered insects and spiders change.

"In the case of intensive management of grasslands, for example, mowing is carried out three times a year and the grassland is fertilized", explains Dr. Nadja Simons, lead author of the study – "while another grassland is, for example, only used for grazing sheep once a year and is not fertilized. This is the minimal form, so-called extensive management." In Central Europe, grassland that is protected by nature conservation laws is also subjected to management, as they would otherwise gradually turn into forests. Simultaneously, the management of unprotected areas is taking place with increasing intensity. This is fatal for species which can only cope with extensive or medium-level use. Frequently discussed approaches include the maximization of use on a percentage of the areas in order to be able to place additional areas under protection, or alternatively to manage all areas with medium intensity.
Read more at Technical University of Munich (TUM)
Photo credit: Daniel Case via Wikimedia Commons