The trouble with being a handsome bird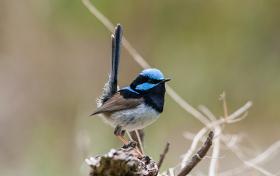 Male birds often use brightly coloured plumage to be attractive to females. However, such eye-catching trimmings may also attract unwanted attention from predators. Now, a new study led by Monash University has found that showy males indeed perceive themselves to be at a greater risk of predation.
The study's lead author, PhD student Alex McQueen, from the School of Biological Sciences, studied risk-taking behaviour in Australia's favourite bird, the superb fairy wren, also known as the blue wren. Every year, male wrens change their colour from dull brown to a stunning combination of brilliant azure blue, with contrasting dark-blue and black plumage.
This annual colour change makes them a useful study species for measuring the risk of being brightly coloured, as the behaviour of the same individual bird can be compared while he is in different colours.
As part of this study, published in the Royal Society Journal Proceedings B, researchers snuck up on unsuspecting fairy-wrens. They then broadcast fairy-wren alarm calls from portable speakers, and observed the behaviour of the birds.
Read more at Monash University
Image: A male superb fairy-wren showing off his bright blue-and-black ornamental plumage. (<span comic="" sans="" ms"="" style="box-sizing: inherit; color: rgb(80, 80, 80); font-family: sans-serif; font-size: 12.8px;">Credit: Kaspar Delhey)