'Perfect storm' led to 2016 GBR bleaching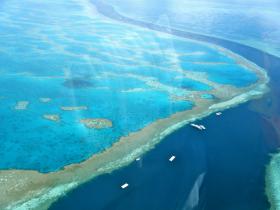 Researchers from James Cook University and the Université catholique de Louvain, Louvain-la-Neuve, Belgiumsay unprecedented oceanographic conditions in 2016 produced the perfect storm of factors that lead to a mass coral bleaching.
JCU's Professor Eric Wolanski said even in very warm years with a summer el Nino event, such as 1998, there was no massive coral bleaching in the Torres Strait and only small to moderate bleaching in the northern Great Barrier Reef.
"So, the extensive coral bleaching in these areas during the summer of 2016 was an unwelcome surprise," he said.
A 2016 aerial survey of the northern Great Barrier Reef lead by Professor Terry Hughes from JCU's Center of Excellence for Coral Reef Studies showed that 90 per cent of reefs in some of these areas were severely bleached.
Professor Wolanski said satellite data showed the 2016 El Nino heating started in the Gulf of Carpentaria, with patches of water reaching an exceptionally high 34 oC.
Read more at James Cook University
Photo credit: Sarah Ackerman via Wikimedia Commons