Concurrent hot and dry summers more common in future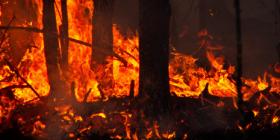 A combination of severe drought and a heatwave caused problems for Russia in the summer of 2010: fires tore through forests and peat bogs. Moscow was shrouded in thick smog, causing many deaths in the local population. At the same time, Pakistan was engulfed in heavy rain, as the high-pressure area over Russia blocked a low-pressure zone over Pakistan. This led to the country's worst flooding for centuries.
According to the statistics, however, such extreme climate events, similar to the heatwave that affected large areas of western and central Europe in the summer of 2003, are only supposed to occur around every 100 years. But as global warming pushes average temperatures higher, the frequency of several extreme weather events is set to increase, experts claim.
Perhaps the statisticians need to check their figures. Researchers have traditionally studied extreme climate events such as heatwaves and drought in isolation, producing separate forecasts of how frequently each one is likely to occur. But when these extremes coincide – a combination of hot and dry summers, for example – their impact is far greater.
ETH researcher Jakob Zscheischler and Professor Sonia Seneviratne from the ETH Institute for Atmospheric and Climate Science have now calculated the probability of compound climate extremes, as the co-occurrence of severe heat and drought generally depends on the correlation between temperature and precipitation in the summer. The results of their study have just been published in the academic journal "Science Advances".
Continue reading at ETH Zurich
Image via ETH Zurich