Engineers find way to evaluate green roofs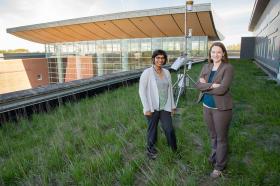 Green infrastructure is an attractive concept, but there is concern surrounding its effectiveness. Researchers at the University of Illinois at Urbana-Champaign are using a mathematical technique traditionally used in earthquake engineering to determine how well green infrastructure works and to communicate with urban planners, policymakers and developers.
Green roofs are flat, vegetated surfaces on the tops of buildings that are designed to capture and retain rainwater and filter any that is released back into the environment.
"The retention helps ease the strain that large amounts of rain put on municipal sewer systems, and filtration helps remove any possible contaminants found in the stormwater," said Reshmina William, a civil and environmental engineering graduate student who conducted the study with civil and environmental engineering professor Ashlynn Stillwell.
A good-for-the-environment solution to mitigating stormwater runoff may seem like a no-brainer, but a common concern regarding green roofs is the variability of their performance. One challenge is figuring out how well the buildings that hold them up will respond to the increased and highly variable weight between wet and dry conditions. Another challenge is determining how well they retain and process water given storms of different intensity, duration and frequency, William said.
Read more at University of Illinois at Urbana–Champaign
Photo by L. Brian Stauffer