When temps are higher, Japanese quail require a breeze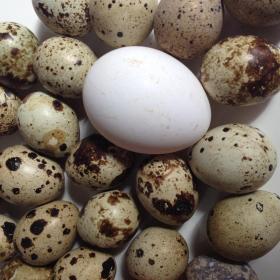 Tiny Japanese quail eggs are a small niche market in the United States, but they're a big business in Brazil where they are sold fresh in grocery stores in egg cartons that hold 30 of the small, speckled delicacies, and are a hard-boiled staple on restaurant salad bars. Recent research from the University of Illinois helps Brazilian producers understand the birds' behavior under wind and temperature variables and suggests environmental changes to boost their egg-laying productivity.
"A study like this one is an interesting collaborative effort between animal science and engineering," says U of I researcher Richard Gates. "Animal scientists tend to think that nutrition and genetics are the primary drivers. Engineers are adamant that facilities and environment are the key. The reality is that it is the interaction of a lot of factors."
Gates is a professor in the Department of Agricultural and Biological Engineering in the College of Agricultural, Consumer and Environmental Sciences at U of I. He says he does a lot of cross-disciplinary work. "I'm the 'token' engineer in a lot of different projects. Many projects are about the impact of the housing systems—the interior environment on welfare, behavior, productivity for various types of animals and the exterior environmental impacts."
The study was prompted by an invitation from the manager of a large, hen laying operation in Brazil to tour the facilities of his more recent venture—quail production. On the visit, Gates found long, narrow poultry sheds situated like a trellised vineyard of buildings on the side of the mountain. Each building containing three rows of quail cages running lengthwise.
Read more at University of Illinois College of Agricultural, Consumer and Environmental Sciences (ACES)
Image: Large, white chicken egg surrounded by small quail eggs. (Credit: Isabela C. Santos)