Volvo to Drop Combustion Engines and Take All its Cars Electric in 2019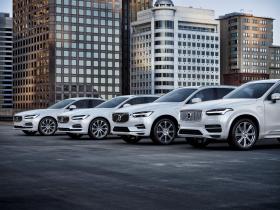 The Swedish-based carmaker, Volvo, will build only electric or hybrid-electric cars beginning in 2019, making it the first big auto company to abandon conventional gasoline-powered engines.
The legendary auto manufacturer, now a wholly owned subsidiary of a Chinese company, had earlier set a goal of selling one million electric cars and hyrids by 2025. "This is how we are going to do it," President and CEO Hakan Samuelsson said in a statement.
All the major automakers have been getting ready for the shift to electric vehicles, reports Dow Jones, but have been waiting until the cost of manufacturing electric models was comparable to producing conventional cars.
In recent weeks, Jaguar, Audi, Aston Martin, and Mercedes have each announced plans to launch new EV models, according to BusinessGreen, and earlier this week Honda and Hitachi said they would establish a new joint company focused on electric cars.
Read more at Yale Environment 360
Photo Credit: VOLVO