Blue-green algae makes a colourful, scummy return to Alberta lakes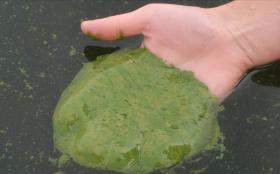 It's slimy, it's stinky and like a creature from a summer horror flick, it's coming back to Alberta lakes this vacation season.
Blue-green algae—the scum-inducing bacteria to blame for the annual 'eww' factor in local swimming holes—should be blooming by mid-July, says a University of Alberta water expert.
"It's inevitable these days," said Rolf Vinebrooke, a professor in the Faculty of Science who studies cyanobacteria, the technical name for blue-green algae, named for the colour it gets from chlorophyll.
The average number of Alberta lakes for which the province has had to post recreational health advisories about the nuisance bacteria has more than doubled since 2012, said Vinebrooke, adding there were about 30 to 40 lakes that had advisories posted by late summer.
Continue reading at University of Alberta.
Photo via University of Alberta.