Hubble Pushed Beyond Limits to Spot Clumps of New Stars in Distant Galaxy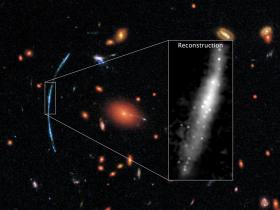 When it comes to the distant universe, even the keen vision of NASA's Hubble Space Telescope can only go so far. Teasing out finer details requires clever thinking and a little help from a cosmic alignment with a gravitational lens.
By applying a new computational analysis to a galaxy magnified by a gravitational lens, astronomers have obtained images 10 times sharper than what Hubble could achieve on its own. The results show an edge-on disk galaxy studded with brilliant patches of newly formed stars.
"When we saw the reconstructed image we said, 'Wow, it looks like fireworks are going off everywhere,'" said astronomer Jane Rigby of NASA's Goddard Space Flight Center in Greenbelt, Maryland.
The galaxy in question is so far away that we see it as it appeared 11 billion years ago, only 2.7 billion years after the big bang. It is one of more than 70 strongly lensed galaxies studied by the Hubble Space Telescope, following up targets selected by the Sloan Giant Arcs Survey, which discovered hundreds of strongly lensed galaxies by searching Sloan Digital Sky Survey imaging data covering one-fourth of the sky.
Read more at NASA/Goddard Space Flight Center
Image: In this Hubble photograph of a distant galaxy cluster, a spotty blue arc stands out against a background of red galaxies. That arc is actually three separate images of the same background galaxy. The background galaxy has been gravitationally lensed, its light magnified and distorted by the intervening galaxy cluster. On the right: How the galaxy would look to Hubble without distortions. (Credit: NASA, ESA, and T. Johnson (University of Michigan))