Rising temperatures are curbing ocean's capacity to store carbon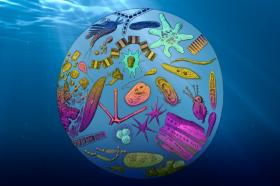 If there is anywhere for carbon dioxide to disappear in large quantities from the atmosphere, it is into the Earth's oceans. There, huge populations of plankton can soak up carbon dioxide from surface waters and gobble it up as a part of photosynthesis, generating energy for their livelihood. When plankton die, they sink thousands of feet, taking with them the carbon that was once in the atmosphere, and stashing it in the deep ocean.
The oceans, therefore, have served as a natural sponge in removing greenhouse gases from the atmosphere, helping to offset the effects of climate change.
But now MIT climate scientists have found that the ocean's export efficiency, or the fraction of total plankton growth that is sinking to its depths, is decreasing, due mainly to rising global temperatures.
In a new study published in the journal Limnology and Oceanography Letters, the scientists calculate that, over the past 30 years, as temperatures have risen worldwide, the amount of carbon that has been removed and stored in the deep ocean has decreased by 1.5 percent.
To put this number in perspective, each year, about 50 billion tons of new plankton flourish in the surface ocean each year, while about 6 billion tons of dead plankton sink to deeper waters. A 1.5 percent decline in export efficiency would mean that about 100 million tons of extra plankton have remained near the surface each year.
Read more at Massachusetts Institute of Technology
Image: MIT climate scientists have found that the ocean's export efficiency, or the fraction of total plankton growth that is sinking to its depths, is decreasing, due mainly to rising global temperatures. Credit: MIT News