Student unfolds secrets of boreal forest moss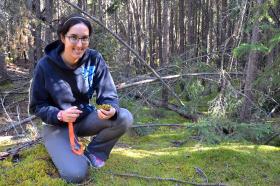 "Now I know mosses have a whole secret world," says Jean, a University of Saskatchewan biology PhD student. "It's like discovering a mini forest in the forest."
Not just pretty, mosses contribute up to 30 per cent of Canada's boreal forest total growth every year, while maintaining the organic floor necessary for evergreens to grow.
Jean presented evidence at two major ecology conferences showing that a combination of fire and climate is changing where moss grows. Without mosses, some evergreen forests will not grow back, something scientists had not known until now.
"Only if we reduce climate change can we help keep forest life cycles as they were before," she said.
Continue reading at University of Saskatchewan.
Photo via University of Saskatchewan.